Contemporary Impressions Subscription Order Form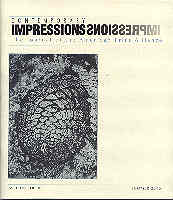 Subscriptions are for the two issues of the same calendar year. Individual issues for the current and immediately-past year are not sold separately. The 2010 issues include an in-depth examination of Cuban printmaking and articles by Andrea Emmons, Amos Paul Kennedy Jr., Erik Waterkotte, Tetsuya Noda, Indrani Gall, Pieter Myers and more. Internationally acclaimed Cuban artist Ibrahim Miranda has cut three linoleum blocks for our 2010 gift print; subscribers receive one of the images at random.

Subscribers (including students, not institutions) receive a password for access to extra features of our website (including the popular list of Competitive Exhibits and our Guide to Printmaking, Papermaking and Book Arts Workshops). Subscribers are invited to post an image of one of their prints, paperworks or artist's books in our Print Bin. These free benefits for subscribers have no separate or redeemable value. Subscriptions are for the calendar year: if you send your payment by January, you can have a password and an image in the Print Bin for the full 12 months. If you subscribe later in the year, you'll still receive both issues of the journal, but your password and presence in the Print Bin will expire in December even if that's less than 12 months away.

All prices are U.S. dollars. Free postage in the U.S. Mailing addresses in Georgia must add 6% sales tax.

Postage to other countries, please add $4 per year to Canada or Mexico, $12 per year to all other countries

We can accept credit cards only through PayPal (use the button below); please be sure to add $2 to your total to cover the fee that is charged to the Alliance and send a separate email to let us know exactly what you have ordered.

Our bank is able to accept checks and money orders in Canadian dollars without an additional fee at the exchange rate of CN$1.30 = US$1. (In other words, multiply your total in US dollars times 1.3 to find the correct amount in Canadian dollars.) Our bank may change the policy at any time; if it does, we will have to adjust the rate but you will still be able to use PayPal to place orders from Canada and other countries.

Print and mail this form with a check or money order in US or Canadian dollars to:
The American Print Alliance
302 Larkspur Turn
Peachtree City GA 30269-2210
Or you may pay with a credit card using PayPal. We don't have a fancy shopping site, so BEFORE you click the button, please make a note of everything you want to order and the cost, including shipping for non-U.S. addresses. Send that information to director -at- printalliance.org.
Be sure to add $2 per PayPal order, the amount it costs us for processing.