Travel Schedule
Exhibition List
Common Ground, an international travelling exhibition from the American Print Alliance, shows prints and artists' books that foster a vital community among artists and the general public. The exhibition demonstrates how these media engage popular audiences, address topics that concern everyone, and translate between personal and universal experience. Prints, easily transported and disseminated simultaneously to multiple locations, and largely dependent upon images rather than diverse languages to carry information, have always brought ideas to the widest range of people and places. Printed images, from Renaissance herbals to postmodern advertising graphics, challenge limits and suggest interfaces between supposedly disparate people. Prints exemplify the belief of Carol Pulin, Director of the Alliance, that contemporary arts can encourage individuals to cross conceptual boundaries.

Jennifer Saville, Curator of Western Art at the Honolulu Academy of Arts, selected thirty-five prints and artists' books by members of the American Print Alliance councils. Some artists sought to cross the lines established by tradition, lines between popular culture and "fine art." Several artists addressed the philosophical separation and recent re-merging of the arts and sciences, especially in respect to environmental concerns and, of course, hand craftsmanship working in concert with computers and high-tech imaging systems. Created with many different techniques and showing a great variety of styles, the sensitivity and the strength of these prints and books are compelling. The artists' statements reveal the exceptionally perceptive and expressive power of today's printmakers.

Common Ground travels through 2000 and will be shown at neighborhood arts centers, small colleges and large universities from Georgia to California. These diverse venues will draw audiences from academic institutions and the community at large, from small towns and major metropolises. Viewers can expect to enjoy the aesthetic experience and be challenged by the ideas explored.

Contemporary prints do more than depict scenes and events from different places and cultures, they embody the concept of translation. That's obvious in prints that borrow new technologies from the commercial, scientific and industrial worlds. It's equally true in the appropriation of images from other times to devise a new language full of the resonance of associated meanings. Prints are the current leaders of artistic expression because of their natural ability to borrow and adapt imagery, fragment and layer, create narrative sequences and use cultural icons. The major issues of today's world are reflected in prints that reach wide popular and sophisticated audiences. Common Ground demonstrates that the democratic art of printmaking is the new public art of the coming century.

July 25 - August 20, 1998
University of Georgia at Athens
Athens, Georgia

January 10 - February 14, 1999
Roanoke College
Salem, Virginia

February 22 - March 19, 1999
University of Southern Colorado
Pueblo, Colorado

June 18 - July 17, 1999
Lankershim Arts Center
North Hollywood, California

August 5 - September 10, 1999
Western Oregon State College
Monmouth, Oregon

September 29 - October 29, 1999
Iowa Wesleyan College
503 South Harrison St., Mt Pleasant, Iowa

February 28 - April 10, 2000
Midland College, McCormick Gallery
3600 North Garfield #224LRC, Midland, Texas

May 2 - May 27, 2000
John & Betty Gray Gallery
Northwest Print Council
922 W. Main Street, Portland, Oregon

June 5 - August 6, 2000
Bookwalter Winery
894 Tulip Lane, Richland, Washington

August 26 - September 15, 2000
Arizona State University
Tempe, Arizona

October 23 - November 10, 2000
Montgomery College
Rockville, Maryland

December 2000 - January 2001
Gallery 41
41 Lake Street
Owego, New York



(To show the exhibition at your school or arts center, please send an e-mail request to printalliance@mindspring.com or telephone 770/486-6680 noon-8 pm Eastern.)

Exhibition List:
Linda Adato, New York
Chambers of Negotiation & Compromise, 1997.
Color hardground & softground etching & aquatint, 19.5" x 15.75".
Lea Barton, Mississippi
Jesus Saves, 1997.
Color screenprint, 17" x 11".
Christine Blais, Québec
Enigma, 1995-97.
Artist's book: color lithograph with hand color, collage & copper leaf, each print 5.88" x 6", book 11" x 12" x 1".
Marsha Connell, California
Dream Vessels #72: Veiled/ Unveiled, 1995.
Color computer laser print & collage, 8" x 13".
Rosemary Feit Covey, Virgina
Sanctuary 1, 1987.
Wood engraving, 6"; x 4".
S.L. Dickey, Mississippi
His Name is Nobody, 1996.
Color screenprint, 26" x 16".
Susan Mackin Dolan, Colorado
Sacred Memory, 1997.
Digital photoetching with hand color, 7" x 8".
Aline Feldman, Maryland
Rainheld City, 1997.
Color white-line woodcut, 32" x 24".
William Fisher, Florida
Dissertation Physique, 1995.
Color monotype & screenprint, 30" x 22".
Donald Furst, North Carolina
421 Nights: Receive, 1995.
Color sandblast mezzotint, 4" x 5".
Lynn Gorton, North Carolina
Es Esto America?/Is This America?, 1995.
Color screenprint, 15" x 20".
Jerril Dean Green-Kopp, California
Burning Churches, Burning Questions, 1997.
Etching & aquatint, 24" x 17.5".
Bob Hainstock, Nova Scotia
A Domesticated Nature, 1997.
Color intaglio collagraph, 19.5" x 27".
Art Hazelwood, California
Shovelling, 1990.
Woodcut, 9.5" x 5.5".
Shireen Holman, Maryland
Memories of my Father, 1997.
Artist's book: color woodcut & screenprint on handmade paper, 15" x 11" closed, 15" x 23" open.
Su-Li Hung, New York
Walking Shadow, 1974.
Color woodcut, 11" x 11".
Diana Kleiner, Argentina
Iguol y Diferente XIII, 1997.
Artist's book: etching & photogravure on handmade paper with collage, 4" x 12" x 12".
Ann Klingensmith, Iowa
The Gift, 1993.
Color reduction woodcut, 24" x 18".
Odile Loulou, Québec
Identité Francoquébec, 1997.
Color woodcut, 26" x 10".
Kathryn Maxwell, Arizona
She Danced into His Heart, 1994.
Color screenprint, 15" x 11".
Rebecca Marsh McCannell, Oregon
Vacant Chair, 1993.
Lithograph, 7" x 11".
Robin McCloskey, California
Bicycle, 1996.
Color photoetching, aquatint, drypoint & monotype, 18.5" x 17.5".
Kay McCrohan, Maryland
Wholly American Family, 1995.
Artist's book: color lithograph, 15" x 9" closed, 15" x 17" open.
Bert Menco, Illinois
Manipulation, 1996.
Color etching & aquatint, 24" x 18".
Hanne Niederhausen, Florida
The Blues, 1993.
Etching with chine collé, 17.5" x 23.5".
Andrea Ondish, Indiana
till death do us part ..., 1994.
Woodcut, 11" x 8".
Anna Marie Pavlik, Texas
Re-orientation, 1996.
Color etching with chine collé, 18" x 24".
Kathryn Reeves, Indiana
Grammar Class, 1997.
Aquatint & softground etching with hand color, 9" x 12".
Laura Ruby, Hawaii
Landed Committee š Annexation, 1993.
Color screenprint, 20" x 26".
Stephanie Smith, Georgia
Lesson in Communication, 1996.
Color lithograph, 11" x 14".
David Smith-Harrison, California
La Puerta II [The Door], 1997.
Etching & aquatint, 16" x 18".
Bill N. Thompson, Texas
Signals, 1996.
Color screenprint, 9" x 11.5".
Caroline Thorington, Maryland
July 4th Picnic on the Mall, 1989.
Lithograph, 20" x 16".
Art Werger, Georgia
Lead Astray, 1991.
Color etching & aquatint, 23.38" x 17.75".
Jared Wickware, Hawaii
Windmill Party, 1995.
Engraving, 6" x 9".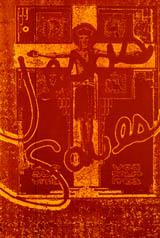 Lea Barton
Jesus Saves
© 1997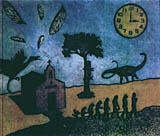 Susan Mackin Dolan
Sacred Memory
© 1997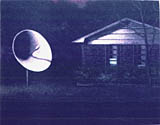 Donald Furst
421 Nights: Receive
© 1995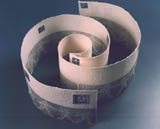 Diana Kleiner
Iguol y Diferente XIII [Same and Different]
© 1997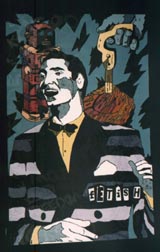 S.L. Dickey
His Name is Nobody
© 1996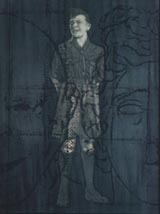 William Fisher
Dissertation Physique
© 1995