Travel Schedule
Work from the Digital Art Studio is an inspirational exhibit of 36 original artworks created using innovative techniques developed by artists Karin Schminke, Dorothy Simpson Krause, and Bonny Lhotka over the last ten years. The exhibit provides a unique study of artistic methods by simultaneously embracing technique while demonstrating its transparency through the stylistically diverse approaches of the three artists.
Today there are many media options available for artists to realize their visions. In this exhibit an inclusive and integrative approach is taken towards media. Paint, collage, fresco, transfers and inkjet prints are among the materials combined in a rich tapestry that fuses technique and imagery. The innovative approaches explored will stimulate ideas in artists of all levels. For printmakers the digital monoprints and the emulsion transfers will be especially appealing.
These three artists recently authored a book on their groundbreaking approaches to image creation, which can also serve as a catalogue for this exhibition. Digital Art Studio, Techniques for Combining Inkjet Printing with Traditional Art Materials has been well received, it has been adopted as a supplementary text for teaching and gone into additional printings. Venues will be able to offer the book for sale on site; it is also available from the American Print Alliance, which benefits from sales using this coupon.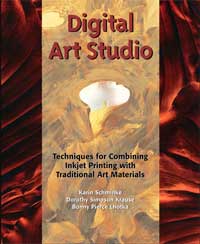 Alliance director Carol Pulin, talking about both the book and the exhibition: "Even for artists (and viewers) who are uninterested in computer and inkjet options, it is an amazing inspiration for thinking outside the box – for techniques and media, of course, but also in terms of transfers, surfaces and all sorts of conceptual and imaginative ideas." (Contemporary Impressions, vol. 12 #2)

Work from the Digital Art Studio premiered in March 2005 at the New Bedford Art Museum in New Bedford, Massachusetts. During the summer of 2005 it was shown at the Center for Contemporary Printmaking in Norwalk, Connecticut. The exhibit is available for continued travel. More detailed information for venues can be found in the exhibition prospectus. To schedule, please write to director@printalliance.org.
September 16 - October 22, 2006
The College of St. Catherine
2004 Randolph Ave.
St. Paul, Minnesota
November 15 - December 15, 2006
Cape Cod Community College
2240 Iyanough Road
West Barnstable, Massachusetts
January 12 - February 8, 2007
Lower Columbia College
1600 Maple Street
Longview, Washington
September 5 - 20 , 2007
Cornish College of the Arts
Cornish Main Gallery
1000 Lenora Street
Seattle, Washington
October - December 2007
PARC Palo Alto Research Center
3333 Coyote Hill Road
Palo Alto, California
May 1 - 3, 2008
NAMTA Conference
(National Art Material Trade Association)
Sponsored by Golden Artist Colors, Inc.
Reno Sparks Convention Center
Reno-Tahoe, Nevada
September 12 - October 15, 2008
Rochester Institute of Technology
Rochester, New York
September 8 - October 16, 2009
Monmouth University
West Long Branch, New Jersey