Contact Us | Site Index

Home


The Alliance


Exhibits


Gallery


Resources


Calendar


Competitive Exhibits



Advocacy


Technical Articles


Supplies


Links


Library
PrintSpin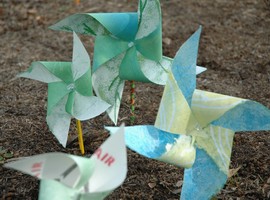 Debates about energy policy, especially around election time 2008, sparked several companies to advertise their alternative energy sources. Wind turbines became a symbol of the efforts of conservation groups and advocates for concerted efforts against global warming. But even people who apparently supported these ideas complained about the appearance of wind turbines. I was hearing the usual NIMBY chant: not in my backyard. People didn't want a windmill to change their views of the ocean from Martha's Vineyard or the open range of a cattle ranch. Years ago, when I first saw wind farms in the passes of the California mountains, I was enchanted by the clean, crisp geometric forms, following each other single-file along the ridge lines or gathered in casual groups like a grove of trees. From the distance, they reminded me of white paper cut-outs standing against the green and gold hills, strikingly beautiful, not ugly.
OK, not everyone is excited by simple geometric shapes. People like colors and patterns. I had an epiphany. Why were windmills uniform, stark white? Why couldn't artists design them? I thought of pinwheels, those wonderful, spinning childhood toys, and envisioned pinwheel farms on the scale of turbines, aesthetically pleasing with appropriate ecological messages in the imagery. I used the workshops I taught at Longwood University to try out the idea, giving students an opportunity to work on real 3-D design challenges, learn simple monoprint techniques, and consider how to engage the public in the sustainable energy issue — all at the same time.
~ Carol Pulin, director of the American Print Alliance
Read the article in Contemporary Impressions, vol. 17 #1 (Spring-Summer 2009) about the workshops and installation at Longwood University: "Prints & Pinwheels: Envisioning a Sustainable Future," by Kelly M. Nelson and Carol Pulin. To read the article as a PDF file, click here.
Angela Tudor, pinwheel, screenprint

Melissa Dorton, pinwheel, monoprint

Melissa Dorton, pinwheel, monoprint

Kelly Nelson, pinwheel, ghost trace monoprint

Kelly Nelson, pinwheel, trace monoprint

Robert Clark Barkley, pinwheel, monoprint

Installation at Longwood University, Virginia, December 2008.
The next workshop was held on September 10, 2009 at Indiana University Southeast in New Albany. Pinwheels from Brian Jones's printmaking class and Susan Moffett's drawing class were displayed at the Rolling Knob Press studio and installed for several days at the entry to Knobview Hall. For pictures of the exciting day of printmaking, see Brian's blog.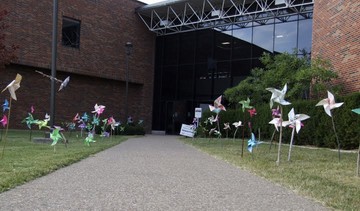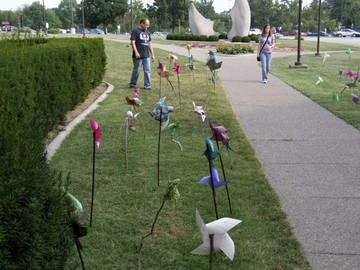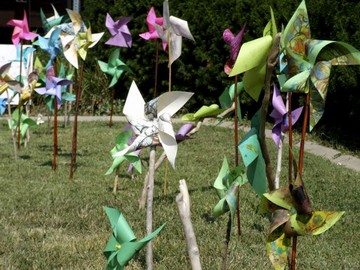 For information about scheduling a workshop for your school or printshop, write to Carol (please copy the address and delete the spaces, we're trying to limit spam): director @ printalliance. org