Contact Us | Site Index

Home


The Alliance


Exhibits


Gallery


Resources


Calendar


Competitive Exhibits



Advocacy


Technical Articles


Supplies


Links


Library
Advocacy and Professional Practices
| | | |
| --- | --- | --- |
| Copyright | Print Law | Testimony |
| Information and tips on copyrighting your work. | Why should you care about New York Print Law? | Full text from the testimony on waiver of moral rights under the Visual Artists Rights Act. |
PrintSpin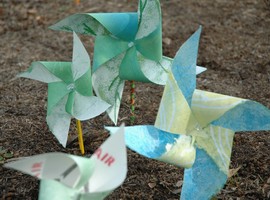 PrintSpin is a print and paper project that takes a light-hearted look at wind energy, engaging the public by showcasing printmaking techniques and three-dimensional design. The Alliance challenges printmakers, especially students, to get involved as advocates for clean energy and for printmaking. Carol Pulin, director of the American Print Alliance, is available for workshops. More info.
Income Taxes
for self-employed (and regularly employed) artists in the U.S.
Note: this information may help you find all the credits you may qualify and apply for, it is not legal advice. We invite you to recommend our website to your friends and colleagues, including providing a link to this page, but we do NOT give permission to copy any part of this page (or any page of our website) and/or reproduce it in any way. See our copyright notice below: © 2010 American Print Alliance. ALL RIGHTS RESERVED. No part of this site may be reproduced or utilized in any form or by any means, electronic or mechanical, including but not limited to any information storage and retrieval system. This is a creative work copyrighted and fully protected by all copyright laws. The Alliance has added value to the underlying factual material herein through compilation, selection, coordination, expression, arrangement and classification.
Making Work Pay is a new tax credit of up to $400 for people with earned income, including self-employed taxpayers (if most of your income is from selling your artwork, you're probably considered "self-employed").
Part of the American Reinvestment and Recovery Act, the Making Work Pay tax credit is a benefit up to $400 available for tax years 2009 and 2010.

The credit equals 6.2 percent of earned income up to the maximum amount, so you qualify for the $400 maximum if your earned income is $6,451 or more. If you earned more than $75,000 but less than $95,000, the amount of credit is reduced; there is no credit for those with greater individual income.

Both "employed" and "self-employed" tax filers are eligible. You claim the credit by completing Schedule M. Even if you had a regular employer who withheld less from your paycheck to account for the credit, you still need to file Schedule M or you won't get the credit and you'll end up paying it back in taxes owed.

Self-employed taxpayers whose earnings are the profit (or loss) from their business also need to complete Schedule C (see below) and the worksheet part of the Schedule M instructions, as well as Schedule M.

The Making Work Pay tax credit is refundable, which means you may get a refund even if you had no tax withheld from your pay.
Is it possible you would have missed out on this credit if you hadn't seen our message/reminder? If so, please become a donor or subscriber to Contemporary Impressions, so the American Print Alliance can continue to help you and other artists! It's a small price to pay for getting $400 from the government. Subscriptions are only $39 (only $32 if you're a member of our allied councils, $19 if you're a student). Click here for the form.
Schedule M
Instructions (two pages): http://www.irs.gov/pub/irs-pdf/i1040sm.pdf
Form (one page): http://www.irs.gov/pub/irs-pdf/f1040sm.pdf
Links to Form 1040 and all schedules: http://www.irs.gov
Don't forget that the Earned Income Tax Credit is similarly for both employed and self-employed people, and not just for those with children (although the income limits and credit are much higher for those with a qualifying child). Over-all limits and credits for the EITC are also higher for two years due to the Reinvestment and Recovery Act.
Take a quick look at EITC income limits:
http://www.irs.gov/individuals/article/0,,id=150513,00.html
If it looks like you're eligible, you can find more info on the EITC here: http://www.irs.gov/individuals/article/0,,id=96406,00.html
Schedule C is for business income or loss for sole proprietor or self-employed business owners - that's the IRS description for most independent artists. Any unincorporated business in the U.S. with profit of $400 or more is required to file Schedule C.
SETI, the Self-Employed Tax Initiative, part of the non-profit Corporation for Enterprise Development, has a website to help low-income entrepreneurs and self-employed Americans. Good resources for those who are filing Schedule C are found here: http://cfed.org/programs/seti/ There's also a list with links to organizations in the following 15 cities, that will help the self-employed prepare a tax return: http://cfed.org/programs/seti/demonstration/local_partners/
| | | |
| --- | --- | --- |
| Austin, TX | Great Falls, MT | San Francisco, CA |
| Barre, VT | Kansas City, MO | Seattle, WA |
| Birmingham, AL | New York City, NY | St. Paul, MN |
| Chicago, IL | Philadelphia, PA | Washington, DC |
| Detroit, MI | San Antonio, TX | Wilmington, DE |
---
Health Hazards
Links to information about health hazards in printmaking and other arts are now in our Resources section on the Links page, please click here.