Printmaking, Papermaking & Book Arts Workshops
THIS PAGE HAS BEEN REPLACED - PLEASE CLICK HERE TO GO TO THE UPDATE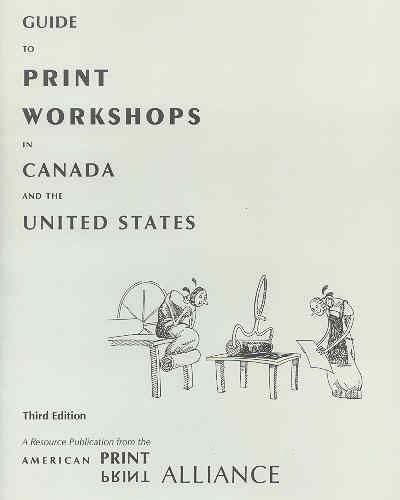 Our Guide to Print Workshops in Canada and the United States was the most extensive list ever published of open workshops: about 500 places where independent artists can work. Information includes techniques and press sizes, paper and book arts, photo and computer facilities, galleries, classes, handicapped accessibility, more.
We are working on a new edition and new way to offer the Guide to Print Workshops right here on our website, so it will be convenient to find and update often. If enough workshops subscribe to our journal, Contemporary Impressions, and many also support us with their ads, we will be able to offer the Guide as a free resource for everyone browsing the web. So please tell your local printmaking and papermaking studios, art centers and schools that you want them to participate and support us! Depending upon the response, the Guide will be a free benefit to individual and student subscribers using the same password they use to access other areas of our website, like the popular list of competitive print exhibitions.Please scroll down to read about our project to make a new edition of the Guide available online.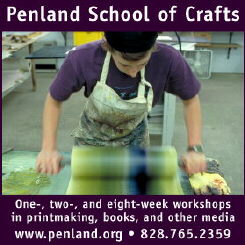 To advertise here, please send an inquiry about rates and sizes to
director -at- printalliance.org.
Our new online Guide includes all the open workshops we could find in Canada and the United States where artists can make original prints, paper or artists' books. To be a resource for the printmaking community, the workshops must be open to artists besides the owner. The Guide indicates whether the shop is open to all artists who take a class or can show their competence with the equipment to work independently, or if it is open only to artists invited or selected from applications. Colleges and universities are included if they bring in visiting artists or offer access / classes outside a regular degree program (often in community or continuing education programs).
Printmaking Workshops: if you received an email asking for updates to your information, please fill in our online form right away. If you didn't receive a message asking for your updates, please send an email to director -at- printalliance.org with the subject "Print Workshops info form" and a brief message with your workshop name, address, telephone, contact person and email; we will reply with a link to the online form.
Don't wait to advertise on this page, just send a separate e-mail with the subject "Print workshop ad" for information about ad sizes and costs. And certainly don't wait to subscribe or renew your subscription to our journal. Workshop owners and independent non-profits may subscribe as individuals using our order form, only workshops that are part of a larger institution (museum, school, etc.) must pay the institutional rate for a journal subscription.
Please use this PayPal button only if you are a workshop that has completed the online information form using your workshop ID and you are subscribing at the special workshop price. All others, please go to the order form.